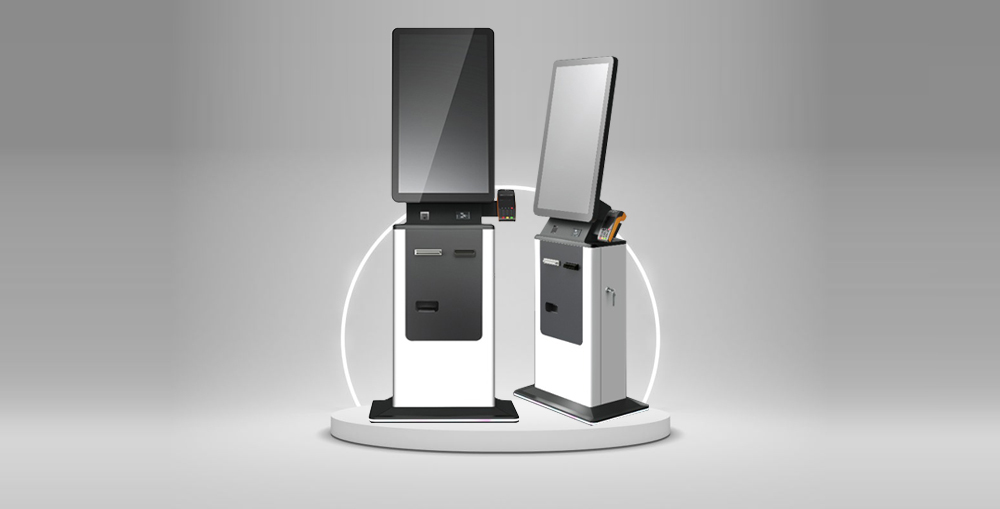 The self-service technologies have completely changing the markets and have huge impact on customer behavior and their expectations from the business. The interactive self-service kiosks have started as an ATM machines, initially used by the banks alone. Later on different industries realized their potential, the technology got cheaper and widely available and in present days, all world-class manufacturers are investing heavily in research and development for improving interactive self-service technologies. This is the reason today we are seeing self-service interactive kiosks everywhere, whether it is a utility bill payment kiosk at the front of a grocery store or at your building's entrance or whether it is a self-boarding interactive self-service kiosk, from very basic to most complex and crucial services are being offered through these interactive self-service kiosks. Here in Dubai and all around the UAE the competition is usually higher, the markets are very dynamic and the customers are tech-savvy. This require businesses to emphasize on digital experience and all customer facing channels. The interactive self-service kiosks in particular are designed to improve customer experience and journey that is why it is important to understand how these system works and how the customer behavior got changed by these kiosks.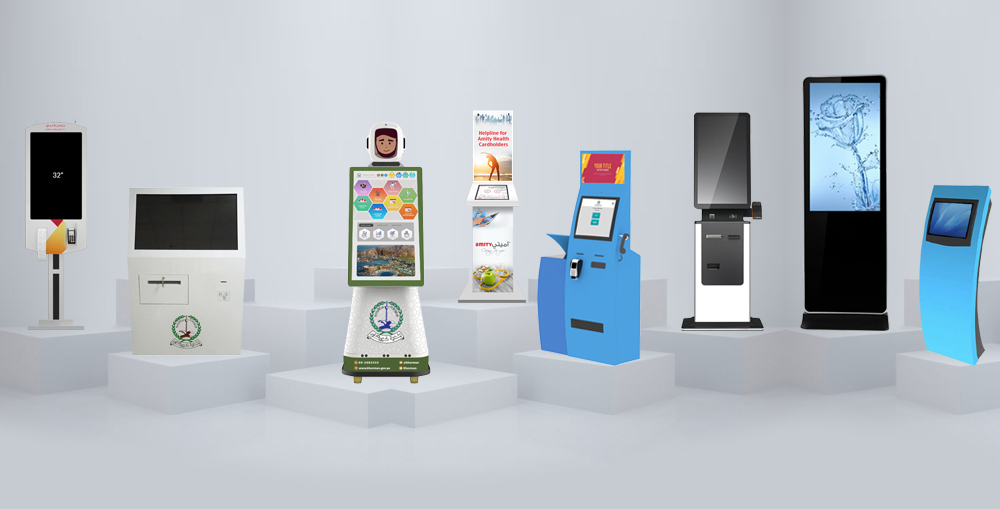 The benefits of implementing self-service solutions and interactive self-service kiosk has become apparent and businesses are investing heavily in self-service solutions, especially in interactive self-service kiosk. You can visit any government or public office and without waiting in long queues you can avail the service through the self-service kiosk. You can go to a restaurant and place an order from the interactive self-service kiosk which provide full details about all the menu and promotional items and also freedom to take your time in placing your order. On top of that you can also make payments using multiple payment methods. Similarly the interactive self-service kiosks are making lives easier for the customers and businesses in many other industries such as education, healthcare, HR, Hospitality, retail and many more. The businesses and organizations use self-service kiosk to improve their efficiency and to tap into unexplored markets. Usually opening up a new branch or service center is a very lengthy and expensive process, instead one or two interactive self-service kiosks will allow you to reach out to the targeted audience without breaking your accounts. These are a few reasons why the interactive self-service kiosk are gaining so much popularity. In this blog we will discuss how an interactive self-service kiosk is impacting on customer behaviors and what businesses need to know to make sure they align themselves with their customers' demands, needs, and expectations.
Customer are Preferring Self-Service Kiosks Instead of Regular Service Counters
There has been several studies all around the world which have revealed that the customers are preferring interactive self-service kiosks instead of traditional service counters. Especially the people ranging in the age group of 18 to 35 are more likely to go for an interactive self-service kiosk instead of the service counter. There is a reason why this age group is more inclined towards self-service kiosks, that is because of this age group is much more familiar with technology than older generations. Especially the Gen Z. these people are born in an environment and culture where the technology revolution have started and taken over everything. Now a days here in UAE almost 99% of the population is connected with the internet and almost the same percentage of population owns mobile phones. The average time spend on the mobile phones and internet is almost 7 to 8 hours daily, out of which 3 to 4 hours are spent on entertainment, communication and social media platforms. The interactive self-service kiosks also comes with a large flashy touch screen which looks very familiar with the modern smartphones, people feel comfortable doing a task on the touch screens because it is convenient, super-easy, and quick. Furthermore the self-service kiosks provide more comprehensive information and offer more freedom of choice which also attract people to go for the interactive self-service kiosks.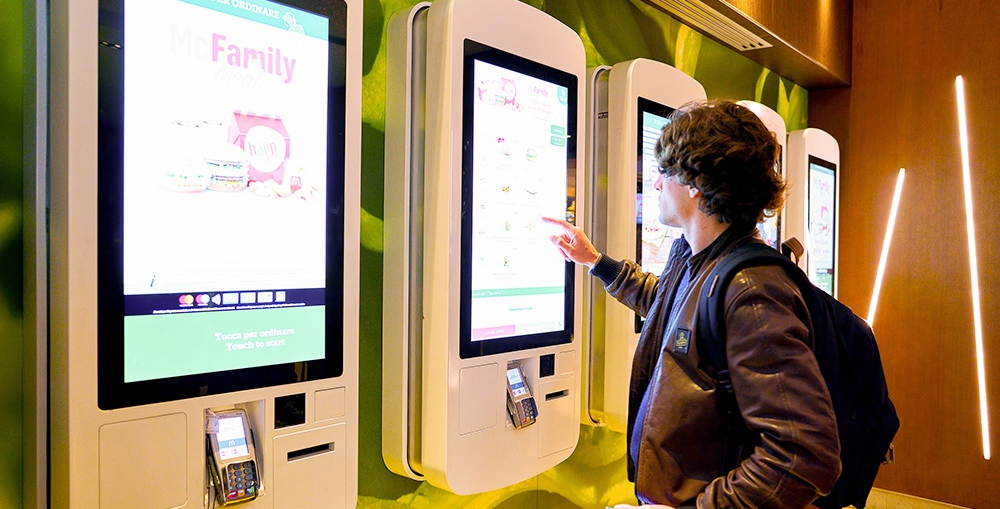 Customer are Purchasing More from Self-Service Kiosks
The small businesses, retail stores, restaurants, fast food outlets and many others like these invest a lot of efforts in boosting their upselling. For that they train their staff and design the cash counters in a way that it can attract more customers to offers, promotions, discounts, etc. which help them boost their upselling and increase average order value/size. That is such a great strategy however, most of the time especially during the busy hours, the cashiers and sale staff tend to pay less attention toward pitching new products or add-ons to the customers, sometime staff can also forget about it at all and so on. However an interactive self-service kiosk never forget nor stopped showing promotional content, and items during the customer journey to encourage them to buy more. Furthermore the market studies have also revealed that when customers use an interactive self-service kiosk the average order value rises. This is due to the ability of the self-service kiosk system to offer personalized experience to the customers, it can also offer products and promotions that are relevant to the customer's current selection or past order history. It can also push best-selling or top-rated products during the purchase process which increase the chances of conversion and it can also offer products based on the demographics of the customers which also help increasing the order volume. The self-service interactive kiosk offers an intuitive UI (user interface) and the purchase processes consists of different steps, the self-service kiosk can push different products on different stages along with features to explore more add-ons and such products while the customer remains at what they are doing. All such features help increasing the average order volume and boost your upselling. That is the reason customers tend to order relatively bigger on the self-service kiosk.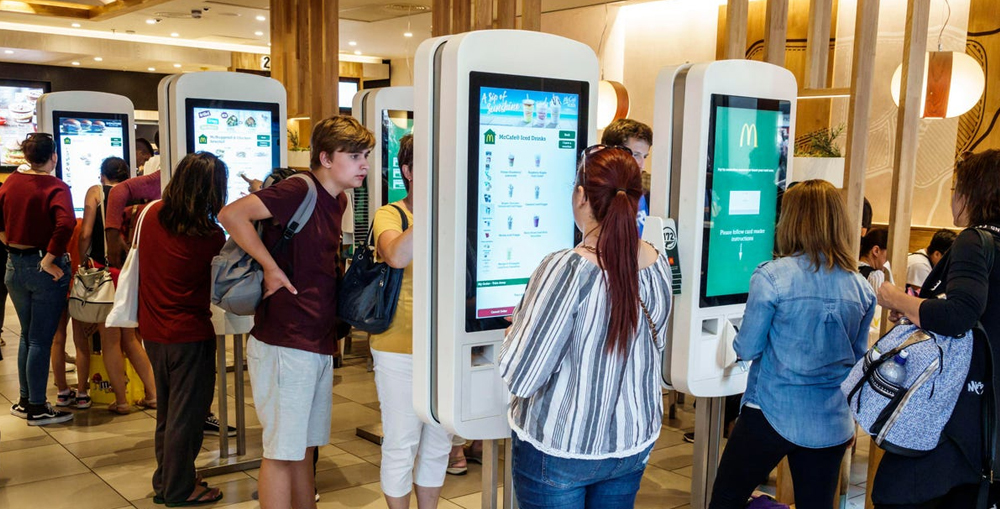 Customers Feel More Freedom and Less Social Pressure when Purchasing from a Self-Service Kiosk
Studies have shown that a majority of people are somewhat introvert, and most of the time even if they are not introvert they tend to avoid unnecessary social interactions. In fact in the banking sector a huge percentage of customers are one who prefer to solve their problem by themselves or by digital channels rather going straight away to a customer center or bank branch. This behavior is very common among service sector. Especially when customers are in a queuing situation they tend to feel more pressure. In such scenarios, even if only one or two customers are behind, the customers tend to try to conclude everything quickly to make way for the next customer. This can prevent them from asking several things or making enquiries about products or services, which obviously results in less sales. People tend to spend less time on the counter conversing with the cashier or service agents, however, when a business or organization offer them interactive self-service kiosks they don't feel any such pressure. They can spend as much time they want in exploring more products on interactive touch screen kiosks. They don't worry about any hesitation of conversing with the staff or any such thing. This is also another reason of higher average order volume/size via the interactive self-service kiosk. Furthermore the on an average a customer is hesitant in initiating upsell, but in case of interactive self-service kiosk they have full freedom and convenience to search for products, do comparisons or consider on-screen suggestions, etc. which help increasing the upselling and also generate more revenue for the business.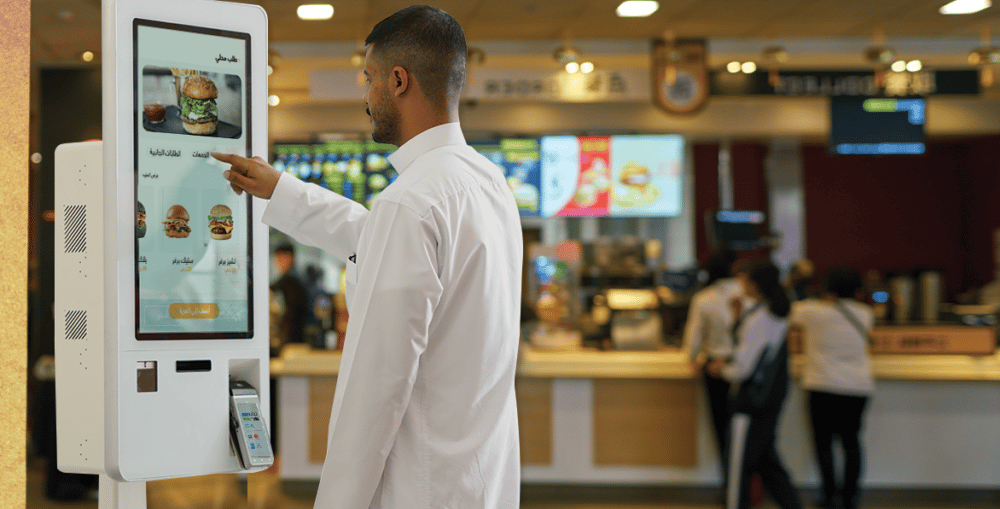 Customers are Accessing Services More Frequently via Self-Service Kiosk than Service Center
Another very impactful change in customer behavior is that they are preferring to access and avail services more frequently from self-service kiosks than comparing to a traditional service center. Let say if on an average a customer is visiting the service center once or twice in a month, then the might be visiting the interactive self-service kiosk four to six time a month. This frequent interaction help engaging customers and nurturing their relationship with the business. Think of an ATM, if each time when we need to withdraw money we will have to visit a bank branch, we will have to sit in waiting areas, we have to sign checks and everything, we will prefer to do it once or twice a month to prevent all this effort. However, as we are using the ATM machines to withdraw money, we don't give it a second thought, we just approach the nearest ATM and withdraw money, no matter if we do that 4 times a month or 10 times a month, it is extremely convenient and require much less effort and time. The same trend has been witnessed in almost all service based industries. The interactive self-service kiosks also offer another excellent feature which is the 24/7 availability, which also contributes to this trend. If a customer has to visit a bank branch or a service center or a store, they will have to reach there within their working hours, then there would be weekends too. So the customers will have to plan a visit first, they might have to leave office early or they might have to take half day off in order to visit the business. However, with the interactive self-service kiosk they can avail and access the services anytime they want, even at the weekends too. High availability, easy access and convenience are admired by the customers and that is why they visit interactive self-service kiosk more often than a traditional service counter.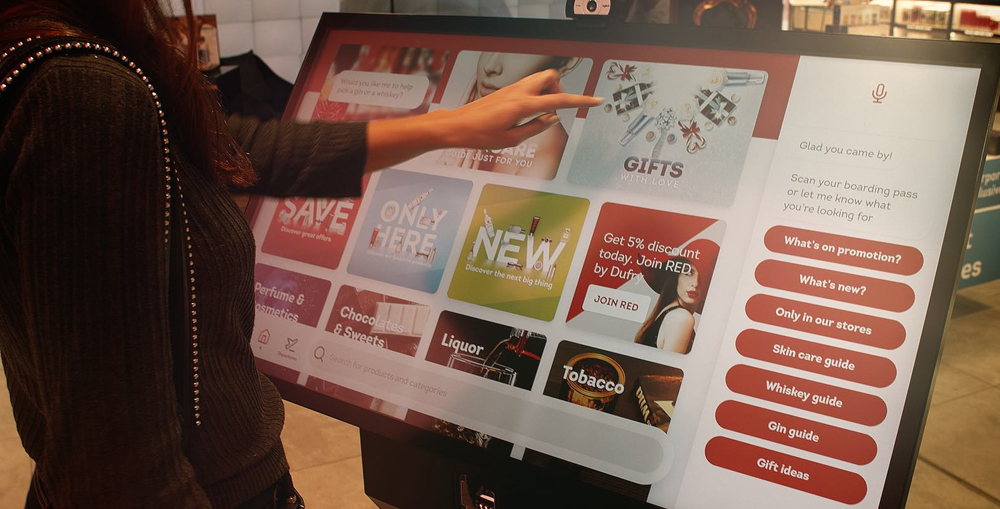 Customer Happiness and Satisfaction is Higher at Interactive Self-Service Kiosk
In the modern day and age the customer experience have become the top priority of businesses. Different industries in Dubai and all around the UAE are already transitioning from a sales-oriented to a customer-centric business model. This is due to the fact that customers give more importance to experience, in fact according to several international studies, the customers puts experience equal to quality of the products/services. The customer happiness and satisfaction is directly linked to their experience, a bad experience will cause unhappiness and eventually the customers will leave you, a good experience will bring them closer to your brand and help you nurture the relationship to convert happy customers into loyal customers. The customer loyalty is considered to be the foundation of the growth and success. An interactive self-service kiosk offers many features which help businesses enhance customer experience and increase their happiness and satisfaction. The long waiting time is one of the major cause of customer unhappiness. The self-service kiosk offers quick and easy access to services for 24/7 without any waiting queue hence the customers can access the services anytime they want. The customers can access a wealth of information by just a tap on the touch screen, which is very helpful. The interactive self-service kiosks offer excellent personalized customer experience which led to satisfactory interaction. The customers can have more freedom, control and error free transaction which increase their happiness and satisfaction.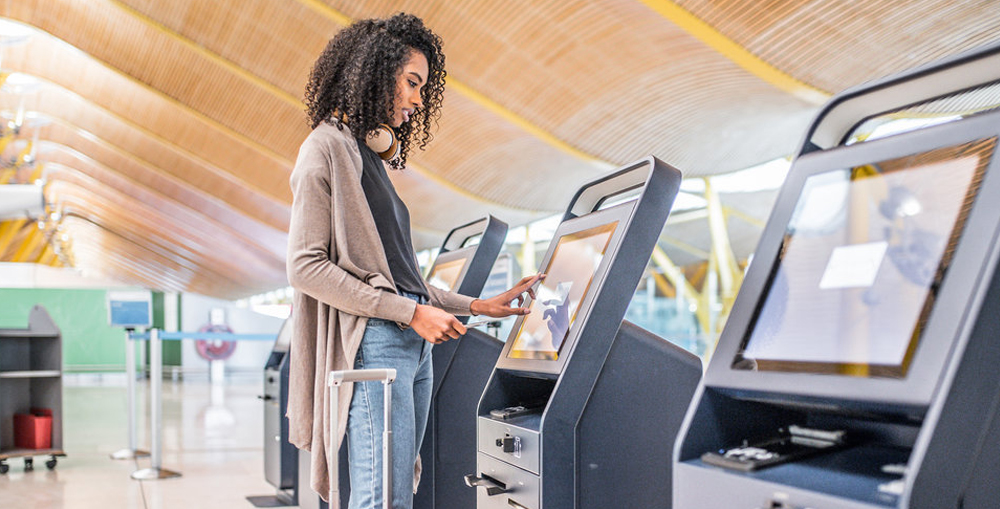 Conclusion
The self-service technologies have improved significantly since their inception, moreover the self-service solutions are win-win situation for both the customers and the businesses. The businesses can expand very quickly by deploying interactive self-service kiosks instead of opening up new branches, regional offices and service centers. That is why businesses quickly adopted to self-service solutions. Earlier the self-service kiosks was used to offer basic services but with the technological advances and easy availability, the modern interactive self-service kiosks can offer highly complex services which could involve document scanning, customer authentication, verifications, payments and much more. Here in Dubai and all around the UAE the interactive self-service kiosks are very common, everyone knows the humble utility bill payment kiosks enabling us to pay our bills at the last moment, and a bit more sophisticated self-service kiosks such as at immigration or government offices, where highly sensitive and crucial work is done. This is due to the convenience and simplicity that is inherited in self-service solutions. Above all the population of the country is also very well-versed with the modern technologies and generally people are very comfortable with the digital interaction. The deeper penetration of technology in our daily lives and the rise of interactive self-service kiosk not only offers convenience but it also started impacting customer behavior.
In this blog we have covered important behavioral changes that occurred over the past few years due to the interactive self-service kiosks. If you want to learn more or if you want our help to build a highly effective tailor-made interactive self-service kiosk solution for your business, please feel free to contact us through our Contact Us page or leave a comment in the comment box below and we will get in touch with you soon.
Check out this: Custom HR Customer Feedback Tool for Businesses in Dubai