Customer satisfaction plays a vital role in managing a business in this competitive world.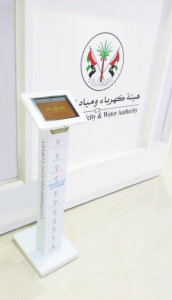 It helps you reach more people through creating an interactive relationship thus, leading your business into success. Taking into action, customer's opinion and suggestion gives a perception that you are taking their feedback in consideration and produce an expression that you are passionately committed towards serving them. Given the importance of that feedback in reaching or exceeding the customer satisfaction, the electricity department Sharjah (كهرباء الشارقة) has deployed the Customer Satisfaction System installed in customized kiosks placed in its 13 branches, manufactured by RSI Geeks to effectively monitor and check the happiness index of customers – who availed their service. This is an initiative done by (كهرباء الشارقة) to join the continuous effort of the UAE Government in promoting happiness to achieve a happier and peaceful society.
The Customer Feedback System Dubai let client handle the customer feedback with lesser ease because it can widely cover different parameters that could affect or influence their judgment such as experience, quality of products and services, time-lines, environment, and other relative aspects in an instant. Hence, it helps the agency to know who their customers are, understand what their customers need and give what their customers want. This is in line with the agency's customer experience strategy – to give the desire of its consumers, deliver value for the customer and develop capable employees to please customers repeatedly (from their vision of 2020).
Using technology to improve customer relationship is timely and advanced at the same time, easy and more accurate. This innovative system makes acquiring knowledge and ideas from real SEWA customers highly possible. Once all the necessary information is gathered from the customers, there would be immediate discussions and faster response. It is a significant action to win the customers. And this customer satisfaction feedback will create customer loyalty and retention because they feel that they are important and that they are involved.
The department can constantly improve their water and electricity services since they have the customer feedback system that could identify other strength and weaknesses of the agency as observed by the consumers.
Since the customer feedback system is installed in a customized kiosk, RSI Geeks made sure that it is accessible and customer friendly. Customers can spend few minutes in answering some questions while waiting or right after the interaction. This would let them input accurate feedback as the feeling of experience is still fresh on their memory. It is also made handy as the system has a mobile app version available for both IOS and Android phone users.
The electricity department (كهرباء الشارقة) is consistent towards achieving one of their goals – to establish a distinct position in the mind of the consumer in such a way that effectively communicates their core values, which has led them in engaging themselves to the Customer Feedback System. This effort would obviously bring the desired results later on.
"A satisfied customer is the best business strategy of all" as said by Michael LeBoeuf. So, regardless on the nature of the business, whether big or small, listening to the customers should always be considered.