The team at RSI Geeks has manufactured a fragrance dispensing kiosk for one of our prestigious customers. The purpose of this kiosk is to introduce people with their new fragrances and perfumes. The idea was very unique and we have worked intensively with the technical team from the client-side. The result was IoT (Internet of Things) based mechanism which sprays a sprinkle of fragrance when someone places their hand in the proximity of the sensor. Moreover, the kiosks also have a large screen to act as active digital signage.
The customized interactive kiosk was made after a long and intense engineering work from our fabrication team. To ensure all the sensors, electronics and everything align with each other. The kiosk can be placed in public places, malls, airports, busy areas, and doesn't need much of the human assistance after the installation and configurations.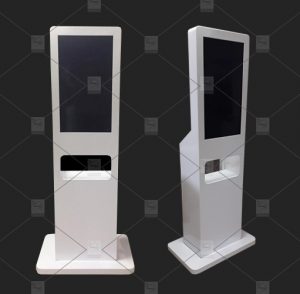 At RSI Geeks we have done customized products for many clients, and with having more than 5000+ installations of our custom interactive kiosk machines, we are one of the largest Kiosks produces in Dubai, UAE. Our products and services are not only limited to the UAE but we have a large clientele in other GCC countries as well. Our technical and engineering teams have learned a lot from their experience which was the reason we were awarded this opportunity.
The pilot project has been handed over to the client and soon we will start the full-on production for a pretty large quantity. Here is what our Sales Manager, Mr Humayun Hashmi said about his experience with this project:
"I am working in the industry for so many years now but this was the most challenging project I have ever encountered. The design was completely customized, two technical teams were involved, complex electronics and above all a very short deadline makes it more challenging than anything else I have done so far. I would like to thank my design and engineering team who have revised the designs for countless times, to ensure the perfect solution for our client. Over the experience was quite learned and I am very much positive that this experience will help us in upcoming challenges."
As I said, customization is one of our core speciality, not only custom interactive kiosks, but the solutions we provide is to ensure the best ROI for our clients which provide us with an edge over our other competitors.
Do you want to learn more about our Interactive Self-service kiosks? Please visit our product page, RSI Geeks Interactive Kiosks.