The Entrance Fever Checking Cameras are very important these days. As the fever and higher temperature are among the main symptoms, so we have to consider them very seriously. There is a variety of thermal imaging cameras available in the market, the important thing is the requirement. Such as if people are entering in the premises in a queue then any ordinary thermal camera can be used, if you are also taking attendance via biometrics, or facial recognition or RFID or any mean, then that setup will suffice. The identification of the infected person will be easier. But in case if people are entering in a crowd then the ordinary thermal imaging camera will not work and we will have to use an Entrance Fever Checking Camera.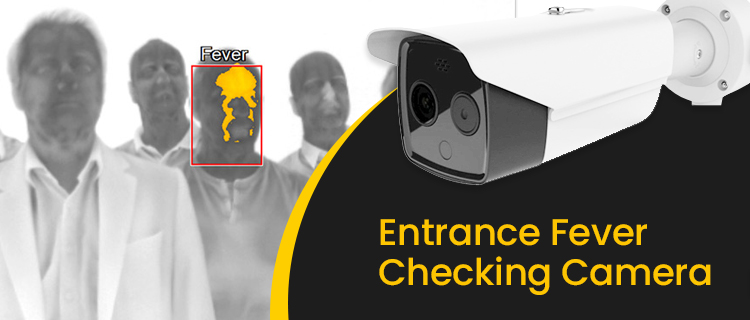 The Entrance Fever Checking Cameras are must to have for the entrances where people are entering in the crowds. Even if there is a queue the Entrance Fever Checking Camera can do the job with higher accuracy and efficiency. Another important feature in our Entrance Fever Checking Camera products is that they have an in-built optical imaging sensor too. The image fusion function is also another very advance feature which our all Entrance Fever Checking Cameras have. This means that the thermal image and the optical image can be infused or superimposed upon each other, which also provides a very clear picture to precisely identify the person with fever or high temperature.
Our Entrance Fever Checking Cameras are equipped with very advance computing and electronics which can provide multiple options for recording and compression. Above all the temperature measurement is done in real-time with very high accuracy and can be transmitted to the security officer or relevant officials to take action immediately. The data and power interfaces are also very flexible and compatible with a multitude of all commonly found systems. Which ensures low commissioning and operational cost.
Our Entrance Fever Checking Cameras are also equipped with in-built sound alarm and soft-alarm (software notification). The sound alarm is configurable and can be set on the desired temperature level, once anyone with that temperature passes through the focused area, the camera will automatically sound an alarm. This is to notify the concerned person at the entrance.
As the only way to control this current scenario is to contain it, so advance technologies such Entrance Fever Checking Cameras, Sterilization Tunnels/Gates, Social Paperless Queue Management Systems and many more such applications can be used to minimize the spread. As our core speciality is customized solutions so we are providing the best and effective prevention measures to ensure the public health and safety to our customers. The solutions are totally based upon the requirements and scenarios of the clients, which is the reason we have successfully delivered a lot many such projects with a very cost-efficient and higher ROI rate to our customers in the past few months.
If you have any question or if you want to learn more about our product, please visit our product page Crowd Fever Screening Thermal Camera Dubai, UAE. Or contact us at our Contact Us page.