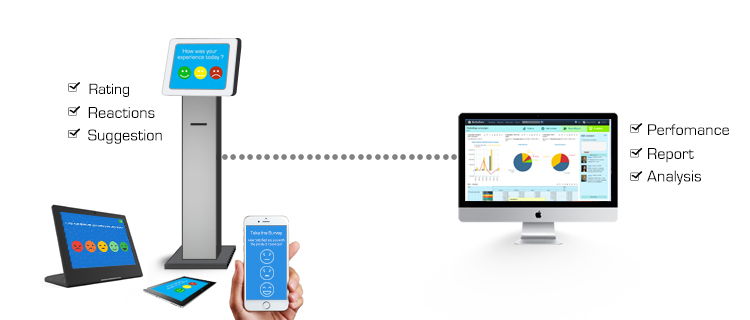 Customer Feedback System
Customer satisfaction is a vital aspect of any business to grow.
Can we expect from a business to grow if it is not successful to satisfy its customers with the products or services offered? Okay let's say you are satisfying your customers with what you are offering but still how do you know if the customer left your outlet happy? – And he will return back?

These are the questions that need to be answered and with the real feedback coming from customers. We offer devices that can provide real time customer feedback such as iPad Kiosk, Tablet Kiosk and other touch screen kiosks. These interactive touch screen kiosks engages the customer with colorful interfaces and catchy icons and pictures to ask of either the products or services offered.

What more? Our customer feedback software can be integrated with any business process such as sales, marketing and other modules within the enterprise. Give us a call or fill in the inquiry form below for our software and hardware professionals to get in touch with you to understand your queries and provide a workable customer satisfaction solution that will help higher management to find the loop holes and eventually grow as a brand.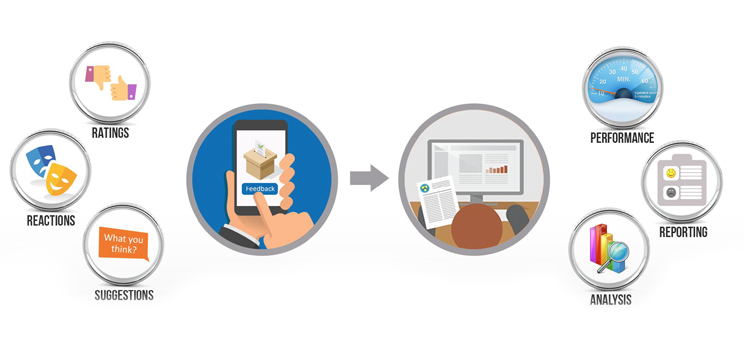 Customer Satisfaction Survey - Onsite
Customer Satisfaction on Kiosk
The customer feedback system is installed on an interactive kiosk and the visitors can complete a short survey while waiting for their turn or when leaving the outlet.
Customer Satisfaction at Teller/Agent
They customer feedback system is installed in a touch screen device such as ipad kiosk - kept on a serving desk of a teller at a bank or customer service agent. Customer can complete the survey while he/she is being served.
Customer Satisfaction Survey - Online
Customer satisfaction on website
Customer Satisfaction survey designed and developed by RSI Geeks is completely customizable and can be given any look and feel as per customer website. It has the capability to be full integrated with any website framework or custom code.
Customer Satisfaction as mobile app
RSI Geeks' customer satisfaction survey system has a mobile version as well that can be used in mobile devices. The survey can be available on IOS and Android app stores.
Hosted with third Party
Due to network restriction policies of the enterprise the RSI Geeks' customer satisfaction survey system can also be hosted with 3rd part web servers but the reports can still be made available to managers and decision makers.
Customer satisfaction survey on email
Customer Satisfaction Survey via email
The Customer satisfaction survey system designed by RSI Geeks has the capability to be sent to email addresses automatically from the email database of the enterprise. The customer satisfaction survey system can be integrated with the contact database of the enterprise and can automatically be sent on a pre-defined time. The reports can be sent back via email or can be analyzed by a central administration software for detailed and useful reporting that can help in critical decision making.